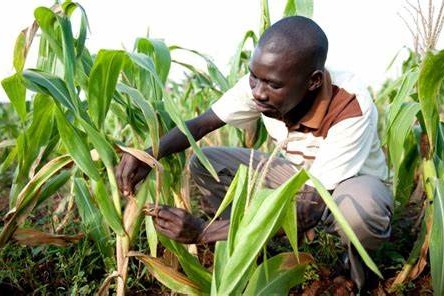 I tillegg til den klimaendringer-relaterte tørken som har ført til at millioner av afrikanere er på randen av sult, truer høstens invasjon av armyworm kontinentets matsikkerhet, inntekter og levebrød ytterligere.
Sykdommen, som først ble rapportert i Afrika i 2016, er anslått å forårsake 9,4 milliarder dollar i produksjonstap i Afrika, ifølge Food and Agriculture Organization. Høstarmyormen lever av bladene, stilkene og reproduktive delene av mais og 80 andre korn- og grønnsaksplantearter.
I Kenya har bønder vest i landet advart om en invasjon av ødeleggende skadedyr ettersom plantesesongen skrider frem. «Det er en invasjon av høsthærormer i maismarker, og vi tar de første skritt for å gjøre bøndene oppmerksomme på behovet for å rapportere til våre forlengelsesoffiserer umiddelbart,» sa Reuben Seroney, direktør for landbruk i Uasin Gishu-distriktet, til News. Kenya Agency forrige uke. .
– Vi har også mottatt ulike kjemikalier fra Landbruksdepartementet som et avbøtende tiltak for å hindre ytterligere angrep.
Seroney sa at ormene har påvirket rundt 5000 hektar med avlinger, for det meste mais.
I Trans-Nzoia County ba landbruksoffiser Mary Nzomo bøndene om å få plantevernmidler fra fylkeskontorene.
Fallarmyworms er også rapportert i mer enn 47 distrikter i Uganda, hvor de har alvorlig skadet avlinger. Skadedyrene har også invadert nabolandet Tanzania.
I en uttalelse fredag ​​sa FAOs generaldirektør Qu Dongyu at bare seks afrikanske land har rapportert om pesten siden 2016. Men til dags dato har den spredt seg til 78 land i Afrika, Midtøsten, Asia og Stillehavet.
«Fallarmyormen kjenner ingen grenser og fortsetter sin raske marsj over hele verden,» sa Qu.
FAO sa at spredningen av høstarmormer driver økt bruk av plantevernmidler, og setter menneskers helse og miljøet i fare.
Som en del av responstiltakene sa FAO at armorm-tolerante maishybrider nå er tilgjengelige ved International Maize and Wheat Breeding Center for testing og utsetting i afrikanske land.
FAO har også testet integrert skadedyrbekjempelse i åtte geografiske områder med gode resultater.
Tiltakene bærer allerede frukt, med produksjonstap av brakkorm i Burkina Faso redusert til 5 prosent eller mindre innen 2020.
I tillegg har biopesticider og biologiske kontroller vist 90 prosent effektivitet i feltet mot skadedyr.
FAO advarer imidlertid om at pesten fortsetter å spre seg, og avslører unge bønder og deres levebrød.
Til tross for prestasjonene, bemerker FAO at bruken av integrert skadedyrbekjempelse og reduksjon av avlingstap varierer fra land til land, og etter hvert som bruken av farlige plantevernmidler fortsetter.
Posten Insektinvasjon øker spenningen i Afrikas matkrise appeared first on Hjemmeguiden.